Pathways to Becoming a Social Science Teacher


The Social Science major in preparation for the single subject teaching credential is designed for students who want to pursue a career teaching history, geography, government, and economics in middle and high school. Students take courses in each of the four areas to provides a breadth of knowledge as well as courses on pedagogy.
Traditional Pathway
The traditional pathway includes a bachelor's degree and a teaching credential in social science and typically takes 5 years.
The first four years, students will take their general education classes and major coursework. After that, students must complete a credential program which includes credential coursework and student teaching; this can be completed in as little as one year.
DLO1: Utilize a variety of teaching, learning, and assessment strategies that are appropriate to history/social science, including the appropriate use of instructional technology.


DLO2: Analyze how political, intellectual, social, cultural, religious, gendered, economic, technological, and ecological forces have shaped world history.


DLO3: Describe the institutions of American and California government, the distribution of political power across them, and the role of citizens in a representative democracy.


DLO4: Analyze the major themes and issues in American history and the historical forces that have shaped them.


DLO5: Analyze the major themes and issues in California history and the historical forces that have shaped them.


DLO6: Identify and analyze the interrelationships between physical, cultural, economic and environmental influences that shape U.S. regions.


DLO7: Utilize economic theory to understand how economic forces affect people's lives and wealth creation within societies.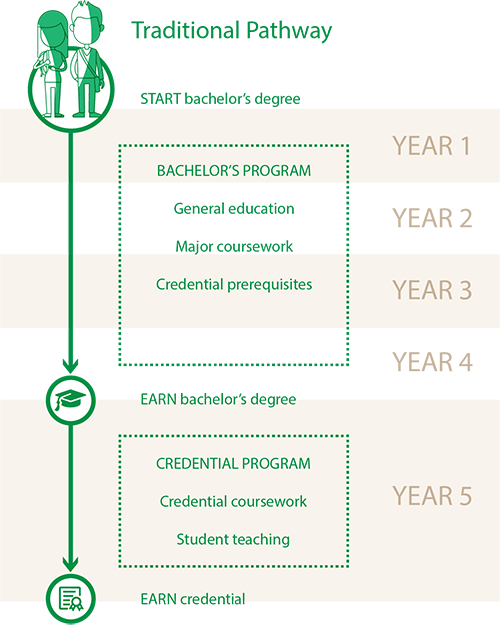 Integrated Teacher Education Program (ITEP) Pathway
The Social Science Integrated Teacher Education Program ITEP is a new 4 year
combined bachelor's and credential option for students who plan to teach history, government, geography, or economics in middle or high school.
Instead of getting a bachelor's degree and credential separately (five years total), ITEP students earn them together in four years (134 units).
Outcome 1: Recognize and apply global perspectives in the study of history, human culture, geography, government, and economics.
Outcome 2: Comprehend and analyze United States and California history, culture, geography, government, and economics, and of the evolving national experience.
Outcome 3: Use historical interpretation, geographic analysis, economic analysis, and other Social Science methods to examine claims and theories related to society and culture.
Outcome 4: Exhibit the ability to think critically about society and culture, using evidence to analyze and critique social phenomenon.
Outcome 5: Develop the capacity to instruct youth effectively in a classroom setting through creating coherent lesson plans, devising assessment tools, and utilizing effective pedagogical techniques.